Never a Dull Moment
Title
Never a Dull Moment
Subject
Mim Egan née Edith Mildred Mayne
Description
Edith Mildred Mayne (Mim Egan), born in 1914 in Oatley, Sydney NSW, lived through two World Wars, the Great Depression, the Spanish 'flu and Covid 19 and in 2021 is still alive at 106. Started as a collection of a short stories of memories of her life, Mim Egan's story is the story of many born in that era. She witnessed the arrival of aeroplanes and cars. She lived before electricity, before telephones in homes and before the radio. There was no running water – only tanks – from which water had to be bucketed. If you needed hot water it had to be heated up in the copper or on the wood stove – and first the fire had to be lit and the water bucketed from the tanks. Mim at aged 4, remembers the soldiers arriving home from WW1 – at the local railway station to meet the soldiers- flags waving; a lot of cheering; A Band playing. When the Spanish flu hit in 1919 – her mother, Edie, acted as a visiting local nurse.
Format
Softcover, 8.5x11in, 76 pages
Identifier
ISBN: 9781982291303
Files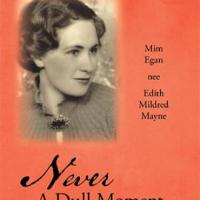 Collection
Citation
"Never a Dull Moment,"
Mary Wade Family History Association Inc.
, accessed March 28, 2023,
https://www.marywadefamily.org/items/show/392
.